Blog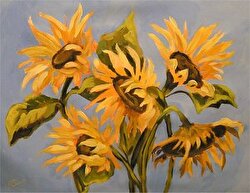 Today, I'm writing about my studio, a place where I can go to be intensively creative, a place to think, a room of my own. Artist friends have all sorts of studio arrangements -- everything from rented space to kitchen tables. All I can be sure of, that I can count on, is that whenever I open the door to that room, I enter a sanctum of peace, regardless of the sometimes general disarray that also greets me. There are times that it looks like a tornado swept through, with bits and pieces of art material everywhere. Other times, it is ordered and tidy, with every paint tube in its sorting bin and every brush nicely stacked in its recycled can. There is almost a perceptible presence of the room, humanized, that wraps its arms around me as I sit in my grandmother's chair at the easel. It whispers to my mind's ear -- "time to release that creative flow!" as I prepare the easel and gather my tools. Sometimes I know what I want to work on, I'm focused and know my task at hand. Other times, the piece evolves as the paints interact and the brush work reveals special blending and effects, leading me toward an expression that surprises me as it inspires me.
The studio has always been my place to go when my heart is heavy, and the demands of life become frantic and painful. It is peaceful, rich in color (and comforts - my chaise lounge and various musical sources have come along on my journey), and a reminder that I can remove myself from the rest of the world and regroup, recharge, and emerge renewed. It is a place of healing, also. When challenges have come, physical and emotional, the studio was a shelter where I could rest, think or not think, weep if I needed to, endure pain, calm myself from the complicated life I lead. It was a place that I was reminded that life is a brief and beautiful thing, even in the midst of difficulty, and that I would endure, I would continue in some shape or form, and there among my work, I could find happiness. As I put brush to paint and paint to canvas, I could commune in my heart with my loved ones long gone, I could remember happiness and small, gentle joys and come to anticipate future promises. The painting unfolds, rich in color and portraying a loved landscape or design, and before too long, I could walk out the door feeling everything would be okay.
There has been much written about the artist's muse -- sometimes it is a person, or an imagined person, or a perception of a being or idea that draws creativity out of the very marrow of bone. I don't know if I have a muse, but if I do, it definitely makes its presence known most clearly to me there. It is a room that is full of potential, of what COULD be brought from the mind and hand into reality. It prompts me to pick up the brush, or crinkle through the collage papers, or twist a bit of silver into something pretty.
So off to the studio I go -- to the shelter of the studio!
Comment on or Share this Article >>
Since I've been painting for almost thirty years now, I've searched for the real reason to do what I do. I've had discussions with lots of my artist friends who consider each and every painting a creation of their soul and would never part with them. But I have bills to pay and while I enjoy the process of painting, I find it a bit easier to part with that piece if the price is right. I don't believe that makes me mercenary in what I am doing, although some would say so. ( I am reminded of Jack White's assertion in his book "The Mystery of Making It" that we are creating "products" if we are selling!) I have found that parting with work, even for a price, brings a certain level of satisfaction.
Maybe it is realizing that something I created from my brain, with my hands and heart, actually moves another person to part with something of value - cold, hard cash. It means that they were so enamoured by the reaction this visual stimulus provides to give me something of value that they earned through their own activities. To think of the many hundreds of pieces over the years that have found their way to homes and offices across the world, each with their own little spark of me...well, that is satisfaction.
If we are honest with ourselves, we paint for a reaction from someone -- a collector, a juror, a neighbor, a friend, our God, sometimes even ourselves. Hopefully it is a pleasant reaction, though there are artists who focus their efforts on more shocking ones. We are all trying in our many creative ways to be noticed and to be heard. It is what sets us apart, and makes our unique gifts so, well, unique. I suppose everyone has it in them to want to feel that their life and efforts meant something in this great sea of humanity. We like to think we are that special raindrop in the thunderstorm. The facts of life are that we are each part of that greater existence, that steamroller of life that keeps on grinding along. I'm sure those ancient sculptors back in Egyptian times thought their work would last for eternity and their names would, too. Now all we have are broken bits and pieces of their "self expression". So what's the point?
The point is to continue to shine that light of creative thought and effort, though it may only last a little while, though it may flicker out as another takes its place. Maybe your spark may not start a forest fire, but it might bring light and warmth to someone else out there sitting in their living room, and smiling at the beautiful art you created just for them. Maybe a smile will spread across your face as you complete that challenging portrait that had been keeping you up at night. Keeping the spark alive, though it may not last the proverbial night -- that's satisfaction.
Comment on or Share this Article >>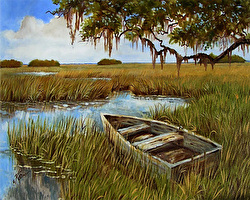 As I begin this blog, I almost titled it as "a painter's journey", but that really isn't the case. I started out as a painter, that is true, however when I am left to my own devices, I tend to ramble into sculpture, claywork, and jewelry making. I pull together assemblages onto wooden boards, draw chalk on the sidewalk, and arrange plantings in my pond to reflect the fishy water just so. I look at throw away soft drink bottles and envision using them as supports for paper sculptures, or maybe paint them up for practical use. When I watch the real estate TV shows, I'm looking at the wall art instead of the beautifully finished flooring. When I sit down to my easel, and open a new color I JUST received in the mail, it gives me a feeling in the pit of my stomach of crayons and first grade -- excitement! So my "journey" really began many years ago, and with the help of some dear friends and bulldog tenacity, here I am.
Art has been my companion through times of deepest loss, blooming vision and grateful praise. Through my creative life, I have learned to look at the world around me and see the majestic, and to look within and see the seeds of beautiful expression. Life is a wonder, Art is the treasure. I was lucky enough to meet an artist who recognized my "art sponge" mentality and took the time to teach me all he knew about art -- the business side, the variety of media, but mostly how to "see" as an artist, how to question what I saw, dissect what I saw, and still feel the wonder in it. As I have moved forward from those early days, I remain surprised at how many artists hold that kind of knowledge to their hearts and NEVER share it. It just sits shuttered inside them, while those around them could be using that encouragement, that knowledge, that perspective to grow through other's waiting hands and ready brushes! What a satisfying vision to be able to give the world - to be able to see what is and capture it, or see what is and expand its beauty.
In coming blogs, I plan to share some of my experiences along the way...though I wax poetic about creating art, I've been doing it for almost 30 years now, and have learned a trick or two! Until next time...
Comment on or Share this Article >>